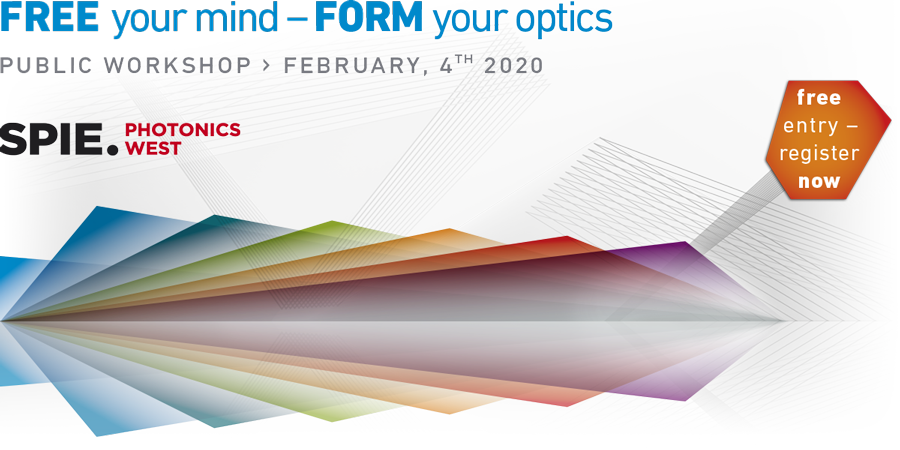 Did you know that free­form optics can improve the per­for­mance of lights, dis­plays or sen­sors in a car? That laser mate­rial pro­ces­sing can be easier and more cost effec­tive? That ent­ire pro­duc­tion lines can be affec­ted and image pro­ces­sing can be smar­ter?
Join us for a jour­ney through the world of free­form optics: from the deman­ding land of design, to the envi­ron­ment of mate­ri­als, the area of manu­fac­tu­ring and the sum­mit of sys­tem inte­gra­tion.
What can you expect?
A short intro­duc­tion of free­form optics and the fo+ initia­tive
A gui­ded tour to dif­fe­rent sta­ges and experts of free­form design, manu­fac­tu­ring, metro­logy or mate­ri­als
Impul­ses for new app­li­ca­ti­ons in dif­fe­rent areas like ima­ging or laser mate­rial pro­ces­sing
Start : 2 pm, Demo Area, Hall EF
Intro­duc­tion
Lutz Reich­mann & Anke Mank | JENOPTIK & fo+ Office
The Journey
Stage #1 : Advanced Design
High pre­cision meets free­form design in tailo­ring light­weight metal optics
Ste­pha­nie Hesse-Ertelt | Fraun­ho­fer IOF
Stage #2 : Smart Manufacturing
Free­forms for high-power laser mate­rial pro­ces­sing
Alex­an­der Zschä­bitz | aspher­icon
Stage #3 : Coating
Reflec­tive coa­tings for high power free­form optics
Ste­fan Jakobs | Optics Bal­zers
Stage #4 : Applications
Micro free­forms for smart ima­ging solu­ti­ons
Ste­fan Mül­ler-Pfeif­fer | POG Pre­cision Optics Gera
Stage #5 : Metrology
Mea­su­ring free­forms and fidu­cials in the pro­duc­tion chain
Ste­fan Krä­mer | Mahr
Stage #6 : System Design & Integration
Free­form optics – for high pre­cision and volume
Lutz Reich­mann | JENOPTIK Opti­cal Sys­tems
Arrival & wrap-up
BOOKING
We ask for bin­ding regis­tra­tion in advance as pla­ces are limi­ted. Please use the boo­king form below. Par­ti­ci­pa­tion is free of charge.
With your boo­king you give per­mis­sion, that pho­to­graphs and videos of the event can be used on the organizer's social media pages and web­sites.