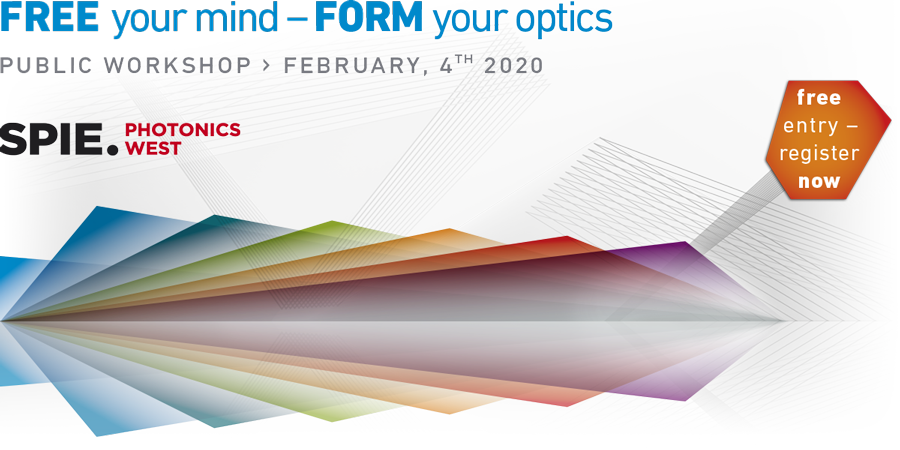 Did you know that freeform optics can improve the performance of lights, displays or sensors in a car? That laser material processing can be easier and more cost effective? That entire production lines can be affected and image processing can be smarter?
Join us for a journey through the world of freeform optics: from the demanding land of design, to the environment of materials, the area of manufacturing and the summit of system integration.
What can you expect?
A short introduction of freeform optics and the fo+ initiative
A guided tour to different stages and experts of freeform design, manufacturing, metrology or materials
Impulses for new applications in different areas like imaging or laser material processing
Start : 2 pm, Demo Area, Hall EF
Introduction
Lutz Reichmann & Anke Mank | JENOPTIK & fo+ Office
The Journey
Stage #1 : Advanced Design
High precision meets freeform design in tailoring lightweight metal optics
Stephanie Hesse-Ertelt | Fraunhofer IOF
Stage #2 : Smart Manufacturing
Freeforms for high-power laser material processing
Alexander Zschäbitz | asphericon
Stage #3 : Coating
Reflective coatings for high power freeform optics
Stefan Jakobs | Optics Balzers
Stage #4 : Applications
Micro freeforms for smart imaging solutions
Stefan Müller-Pfeiffer | POG Precision Optics Gera
Stage #5 : Metrology
Measuring freeforms and fiducials in the production chain
Stefan Krämer | Mahr
Stage #6 : System Design & Integration
Freeform optics - for high precision and volume
Lutz Reichmann | JENOPTIK Optical Systems
Arrival & wrap-up
BOOKING
We ask for binding registration in advance as places are limited. Please use the booking form below. Participation is free of charge.
With your booking you give permission, that photographs and videos of the event can be used on the organizer's social media pages and websites.